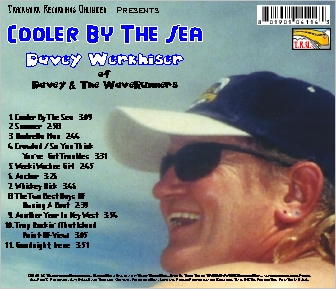 ~ FEATURING ~

1. Cooler By The Sea
2. Summer
3. Umbrella Man
4. Crawdad / So You Think You've Got Troubles
5. Weeki Wachee Girl
6. Anchor
7. Whiskey Dick
8. The Two Best Days Of Owning A Boat
9. Another Year In Key West
10. Trop Rockin' (That Island Point-Of-View)
11. Goodnight, Irene
Cooler By The Sea, by Davey Werkhiser ... aka Davey Wow of The Wow Brothers.

Davey is already part of the "gulf-and-western" live music scene with his band Davey And The WaveRunners, playing Jimmy Buffett and Jimmy Buffett-style music (Davey calls it tropical rock), but with this cd of original songs, he makes a giant leap toward becoming a significant contributor of new music to the trop rock world, and perhaps even becoming one of trop rock's most popular, well-known performers -- yes, the songs are that good! And yet, while the music is rooted in the Jimmy Buffett / gulf-and-western genre, not a single tune is a copy of any established artist - they are all uniquely Davey Werkhiser's own style of trop rock. You see, Davey doesn't want to be the next Jimmy Buffett, he wants to be the next Davey Werkhiser, and Davey's growing fan base agrees that he should be. It takes only one quick listen to verify that Davey's trop rock credentials are sound and that his fans are on to something. Right from the start, the cd establishes a tropical atmosphere with Cooler By The Sea, and keeps the island languor flowing with tunes like Summer, Weeki Wachee Girl, Another Year In Key West, and Trop Rockin' (That Island Point-Of-View). By the end of the last song, you'll swear there are cool sea breezes flowing right out of your speakers!

The cd is issued by Trackwork Recordings Unlimited, so naturally, in addition to the exceptional music, there is a booklet containing all the lyrics, and a dockful of credits, facts, and pictures. High entertainment value, indeed!